You use Encircle. You use Kahi. Now, you can use them together!
The integration between your Kahi and Encircle platforms has two main functions:
Job claims created in Encircle automatically create a corresponding job location in Kahi using the same claim address, and the "auto-discovery" feature in your Kahi account will be turned off

Your list of Kahi assets with their full specifications will be synced with your Encircle equipment catalog, which can then be used when placing equipment in Hydro
Please note: the second function of syncing catalogs might result in duplications of equipment in Encircle if you have manually created equipment there. We recommend deleting all equipment in Encircle first before setting up this integration. Please scroll down to Syncing Catalogs below to read more or reach out to us at support@kahi.io if you have any questions.
Setting Up the Integration
Connecting your Encircle account to your Kahi account will require an Encircle bearer's token. An Admin User of your Encircle account can create a bearer's token in the Bots (Public API) section of your account's Organization Settings. Encircle has a support article available here if more direction is needed.
Once you've got the bearer's token, copy the entire token and paste it into an email. Send that email to us to support@kahi.io and we'll activate the integration for you!
Automatic Job Location Creation
Once the integration is activated for your Kahi and Encircle accounts, it will automatically create Inactive job locations in your Kahi account using the Encircle claim address whenever a new claim is made.
The "Policy Holder" name from Encircle will also be ported over and will become the "Name" of the job location in Kahi. If the "Policy Holder" space is left blank in Encircle, the name in Kahi for the job will default to a short address.
Job locations automatically created using the integration will have the Encircle branding added and will include a redirect to review the job claim in Encircle directly: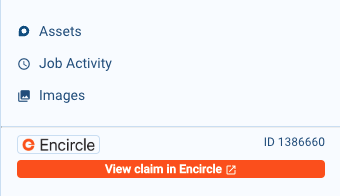 With job locations being automatically created based on Encircle information, the "auto-discovery" feature of your Kahi account is turned off - you'll no longer have to worry about Confirming or Ignoring suggested job locations!
Syncing Catalogs
When provisioning assets into your Kahi account, our catalog can smartly read an asset's make, model, and serial number from its nameplate to identify it and pull up all of its equipment specifications! This integration will allow you to sync your Kahi asset catalog to your Encircle equipment list.
For the sync to work most efficiently and limit the chance of duplications, we recommend deleting any equipment models you would have added manually to your Encircle account - this will guarantee a 100% match between both platforms. As well, any new assets you provision in Kahi will automatically be added in Encircle as well!
You can follow along with the video below to delete equipment in your Encircle account:
Once the equipment has been deleted, reach out to Kahi Customer Success to let us know that you are ready to activate the integration! After we turn it on, all of your Kahi assets will be available for you to use in Encircle as well!

We are actively working with Encircle to deepen the integration between our platforms, and we'll be sure to announce any developments when they do happen!
Some general notes about the integration:
Incorrect address entered on Encircle claim: if an error is made with the address and/or name on the Encircle claim, correcting it in Encircle WILL NOT correct it in Kahi. Once the claim is submitted, any changes/updates to the address or name needs to be done so in Kahi directly, in addition to the change made in Encircle.
Jobs completed outside of Encircle: If a job is completed outside of Encircle, then that job's coordinates/address will have to be added manually to Kahi to ensure assets taken there are properly tracked.
No longer using Encircle?: If you no longer utilize Encircle to process your claims, let us know - we'll make sure auto-discovery is reactivated (if you choose) and will deactivate the integration.